Electric Vehicle Course at mumbai near to Ashburn Virginia, United States. AEVT Guide would be your most valuable first step towards success in your EV business through clear technical and commercial Market Understanding, Opportunity Analysis, Policy Understanding, Technology Understanding, Charging Station Components & Installation Process and more.
EV EVSE Course Offered by AEVT
Architecture of PHEV and BEV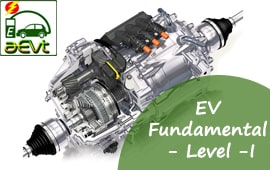 Certificate in Architecture of Hybrid, Plug-In Hybrid and Battery Electric Vehicle
Next Generation Vehicle Technology Certificate Course
covers hybrid and electric vehicle engineering concepts, theory, and applications relevant to HEV, PHEV, EREV, and BEV practical training of battery-powered electric vehicle propulsion systems.
EV Battery pack assembly line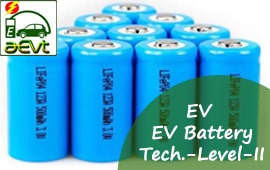 Level-II: EV Battery Technology and Battery pack assembly production line
Today's battery systems are essential, complex and multi-functional modules in electric vehicles. From AEVT EV Battery Technology and assembly lines training, the vehicle manufacturers and component suppliers may quickly and easily implement their development ideas.
EV Public Charging Station (AC/DC)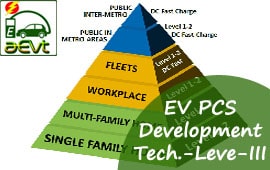 Electric Vehicle Charging Station Design, Installation
Hands-on practical training with in-house theory class on EV Charging Station Designs, planing, costing, ROI, vendor selection and serves as a starting point for EV charging installation projects. Case study of EV charging station business model.
EV Infrastructure Engineer
EV Infrastructure Engineering (complete course for EV EVSE Development Engineers)
Learn about EV technology, EV supply equipment, assembly unit development, EV Charging Infrastructure and more from industry exparts, Design Guidelines, electrical, mechanical and civil engineering releated with PCS. Advanced Certificate course of EVSE (Cover level - I, II, III).
EV EVSE Business Management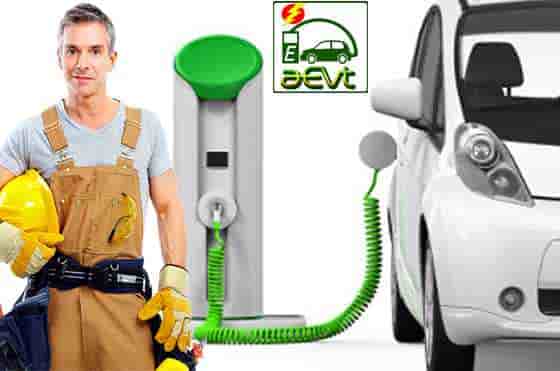 EV EVSE Business Management Course for Entrepreneurs
Techno Commercial skill for EV Startups:
This course also explains how electric mobility can work for various businesses, including fleet managers, automobile manufacturers and charging infrastructure providers. you can able to create e-mobility business for your company
Vocational Course on Electric Vehicle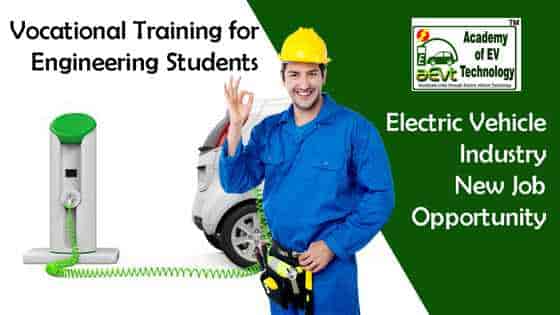 Vocational Course on Electric Vehicle for Engineering Students
Indian EV industries will required 15000 engineers in coming future. Become part of the Future of Hybrid Technologies. This course is aimed at system and/or component design engineers, working in the automotive field.
e-Mobility Corporate Training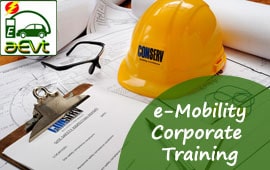 e-Mobility Corporate Training
Corporate & Industrial Training
for Electric Vehicle Supply Equipment company, EV Charging Network company, EV Charger developer company, EV Communication system development company.
Top Industry expert
and
success startup
coming to share knowledge with you.
e-Mobility Event/Workshop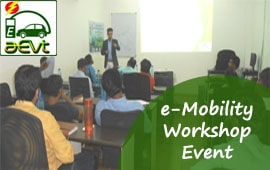 e-Mobility Event/Workshop
EV Business standard workshop
on E-Mobility for working professionals. Building
Analysis and Planning
Workshop for engineer, business developer, marketing manager, service engineer on e-Mobility only at AEVT.
Technical aspect, case study
, market analysis with live practical.
Round table
with top industry leaders.
Quick Inquiry Form
Why E-Volt owner's engineers?
The most effective owner's engineers are those who serve in broader, longer roles that give them time to develop a keen understanding of owner objectives and develop a close relationship with the owner. This close relationship can be essential because the owner's engineer serves as an advocate for the owner's business objectives and identifies skill gaps in the owner's staff that can be filled by the owner's engineer team.
From Start to Finish
Evolt is a consultancy unit of Academy of EV Technology. Evolt can help take a project from concept through commissioning. To get the best possible financing deal, a project must clearly define-at a very early stage-the schedule, projected costs, and suitability of technology and location. Evolt owner's engineer team can help an owner achieve business objectives and sometimes even explain why something is not feasible while seeking suitable alternatives.
Some key assistance that Evolt engineer can provide:
1. Defining and/or reviewing the project scope.
2. Assessing and evaluating the budget and identifying financing sources.
3. Conducting feasibility and site selection studies and alternatives analysis.
4. Analyzing available technologies and their suitability to a project.
5. Preparing early project schedules and design criteria.
6. Preparing technical specifications for owner-furnished equipment.
7. Preparing EPC contract documents, including RFP (request for proposal) issuance and response analysis.
8. Providing permitting assistance and addressing related environmental concerns.
Academy of EV Technology - Mumbai Branch
Cafeinfotech Training Center, Arihant, A16,
Owner's Colony, Vidyavihar East. Mumbai - 400077

The Next Big Business Opportunity: Electric Vehicle Charging Infrastructure
Workplace Charging:
EV fueling can help retain current employees, attract new ones, and demonstrate corporate social citizenship.Installing EV charging stations can be a worthwhile investment that pays for itself in several ways.
Public Parking:
Retail locations and parking garages offering charging stations can appeal to more customers and stand out from the competition.
EV Charging Stations are being installed on a regular basis in residential, commercial and industrial locations.
Here's what you need to know:
Installation shall be in compliance with Electrical Safety

A plug for home or workplace charging

A clear idea of the cost and time needed to charge

Location of Academy of EV Technology - Mumbai Branch
AEVT Mumbai Branch